Physical Education
Results 2017

100% A

Results 2018

100% Pass

Course Leader

Sarah Entwisle

Examination Board

AQA

Assessment

Written examination

Practical examination
What will you study?
The Physical Education course will equip you with a wide range of knowledge, understanding and skills which relate to the scientific, socio-cultural and practical aspects of physical education. Theoretical content is broad, you will explore the following topics:
Applied anatomy and physiology
Skill acquisition
Sport and society
Biomechanical movement
Sport psychology
Sport and society and the role of technology in physical activity
This course will require students to: develop theoretical knowledge and understanding of the factors that underpin physical activity and sport and use this knowledge to;
Understand how physiological and psychological states affect performance
Understand the key socio-cultural factors that influence people's involvement in physical activity and sport
Understand the role of technology in physical activity and sport
Refine their ability to perform effectively in physical activity and sport by developing skills and techniques and selecting and using tactics, strategies and/or compositional ideas
Develop their ability to analyse and evaluate to improve performance
Understand the contribution which physical activity makes to health and fitness
Subject specific entry requirements:
Grade 5 in GCSE Science
Grade 6 or Merit at KS4 GCSE PE or equivalent
Practical Sports Performance outside of school for a team or club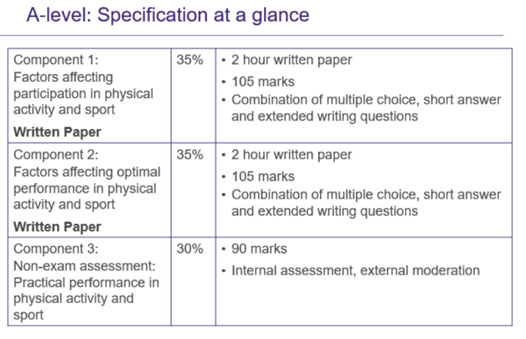 CHOOSING PHYSICAL EDUCATION ALLOWS YOU TO PRESENT YOURSELF AS A ROUNDED INDIVIDUAL TO UNIVERSITIES. IT PROVIDES YOU WITH THE OPPORTUNITY TO EXPLORE A RANGE OF SUBJECTS IN A PRACTICAL SETTING. REGULAR PARTICIPATION IN COMPETITIVE SPORT DEVELOPS CONFIDENCE, RESILIENCE AND LEADERSHIP SKILLS WHICH ARE ALL ASSETS TO FUTURE CAREER PATHS.
Future Pathways
A Level Physical Education can lead to a number of varied careers, including: teaching, coaching, instructing, research, psychology, nutrition, physiotherapy, sports therapy, chiropractor, human sciences, product design, sports management , Sports Marketing, Sports Broadcasting/Journalism and professional athlete.
Extra Curricular Opportunities
Training / Competing / Umpiring sports
Inter-school House matches
SUBJECT SPECIFIC PRESENTATIONS AND HOLIDAY TASKS
Please click the below link to take you to a page listing subject presentations and summer holiday tasks for Year 11 students entering V6 Sixth Form in September.