Applicants Information
Welcome to all potential Year 12 students!
Here you will find all the information you need to prepare for your start with us in September. Below you will find general course preparation materials which are not mandatory, but have been designed to help you prepare for your courses. Please also access the information under the area on the left titled 'Subject information for applicants' for further information from your subjects and an update on the summer holiday work you will need to complete before September. A link to this can also be found at the bottom of this page.
You will also need your parents/carers to complete the Sixth Form Enrolment Data Form. Please note that this is essential information that must be completed before we can enrol you onto your courses.
Complete V6 Enrolment Data Form
In addition, you will also find below welcome information from Mrs McClean, Vice Principal & Head of Sixth Form and a presentation giving information about what we have to offer you and enrolment procedures, and finally a presentation from the Head Student Team, including a virtual tour for anyone who has not yet been able to visit the site.
Clarification of the V6 Sixth Form dress code can be found here:
Furthermore, specific information regarding procedures for enrolment and the start of term will be emailed to you, so do watch your email carefully.
We look forward to welcoming you to V6 in September!
Subject Specific Presentations and Holiday Tasks
Please click the below link to take you to a page listing subject presentations and summer holiday tasks for Year 11 students entering V6 Sixth Form in September.
Welcome message from Head of V6
Welcome presentation from Head Student Team
Click on the below image to download and view the Welcome Presentation from the Head Student Team (Note: Put audio on when playing).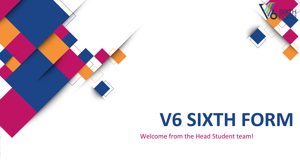 (Click on above image to download)
If audio not available a transcript to the presentation can be found here: Y12 Induction Day transcript to powerpoint