Read Our

Latest News
Student's final chance to pitch for a place in the Boardroom Final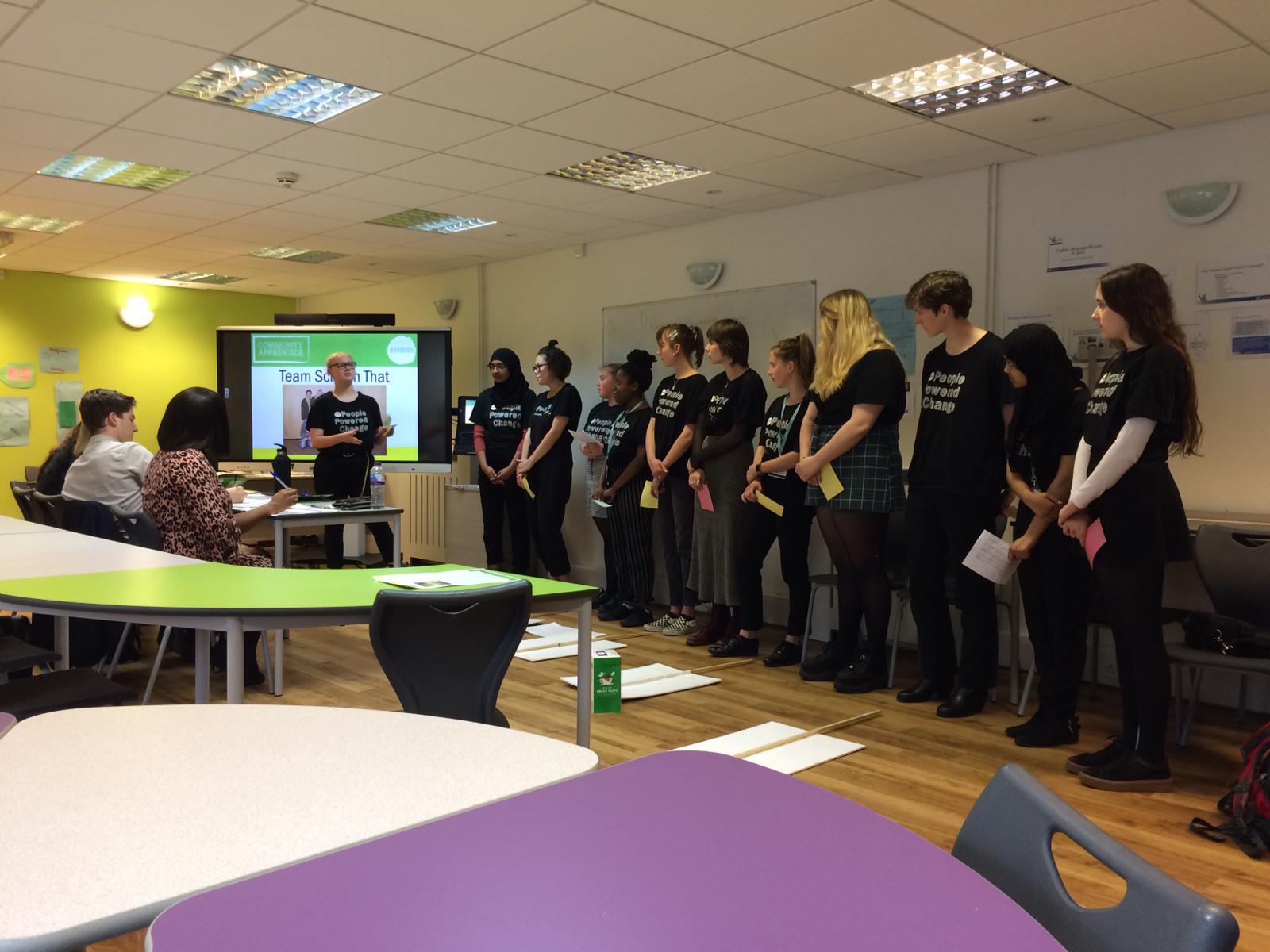 V6 Sixth Form students pitch for a place at the Boardroom Final.

Two teams of year-12 students from V6 Sixth Form are taking part in the Community-Apprentice competition which has been running in five schools since September 2018. The students are working in teams to manage their own project to see which team can make the biggest positive impact to a problem in their community.
Evidencing active citizenship
Since January, the teams have been turning their project ideas into reality having secured a grant of £100 following successful pitches in December to a panel of local business and community leaders.
Team Scratch That chose to tackle catcalling and street harassment. The team kickstarted their project by setting up a highly successful social media page which gained over 350 followers and celebrity endorsements from the likes of Jameela Jamil and Chloe Elizabeth. The team raised awareness for the issue by attending the women's march, speaking out on Ujima and BCFM radio stations, holding posts up in Broadmead and delivering assemblies in school. In April, the team successfully achieved their main goal; giving out over 150 teabags with statistics and messages to members of the public. The team then went on to meet with Cleo Lake, Lord Mayor of Bristol and Thangam Debbonaire, local MP to discuss their issue and see how the local council and government can support the project. Finally, the team linked up with local youth mental health charity, Off the Record (OTR) to deliver workshops at their hub.
Team Unite chose to raise awareness for colourism and body confidence. After realising there was almost no online statistics on colourism, the team decided to conduct their own survey in school. Shocked to find so few of their peers knew about the issue, they decided to run assemblies and workshops to over 800 students from year 7-11. Following the success of their in-school awareness raising, the team went on to deliver workshops to local community groups, spoke on Ujima and BBC radio stations and have an article published in Up Our Street community magazine. Following this success, the team went on to the streets to discuss colourism with members of the public, whilst giving out stickers to raise awareness.
Evidencing employability skills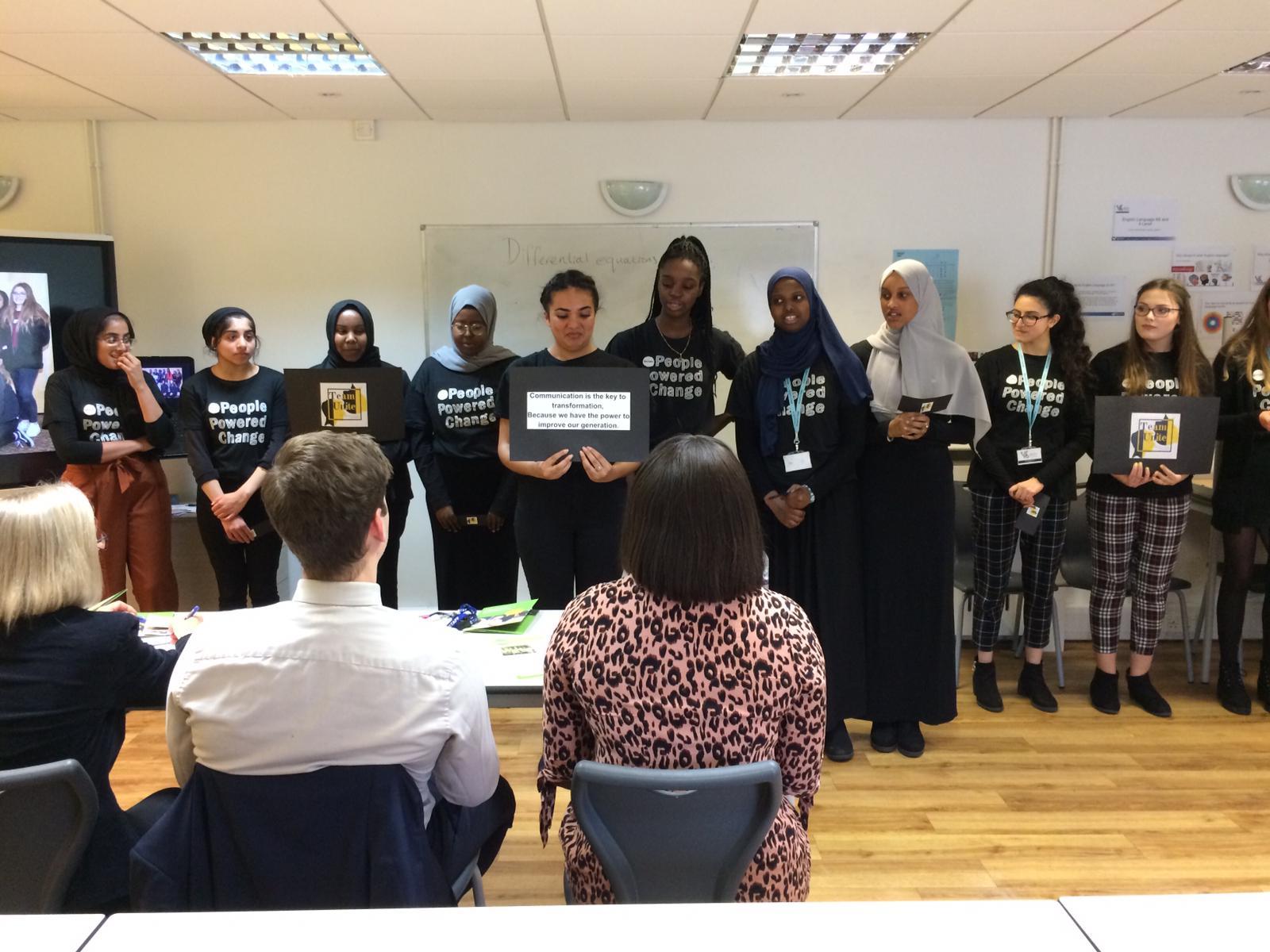 On Thursday 9th May, the teams went head to head at the in-school pitch. Here they were looking to secure a place at The Boardroom Final on Wednesday 12th June. Teachers took their seats on the judging panel as the teams delivered a presentation about their projects. As well as evidencing how they tackled the issue, they were also required to articulate their own development during the programme, drawing on specific examples from the project. After a close contest and lots of deliberation, the panel decided that both teams would represent V6 Sixth Form at the final where the students will have the opportunity of presenting to Bristol Mayor, Marvin Rees at Wills Memorial Building.
References

Each team in the competition was partnered with its very own business, who provided volunteer mentors to guide and encourage the team with their projects and encouraged them to develop skills that employers are looking for. Both teams were partnered with Great Western Railway.
The teams had the incredible opportunity to meet with mentors from Great Western Railway 5 times over the past ten months. The business mentors provided the students with examples of how to develop key skills in teamwork, communication, creative thinking and grit: reinforcing how valuable these skills are in their own jobs, and when accessing the workplace in general. Trips to Great Western Railway have given students the unique opportunity of gaining exposure to the workplace and have even been provided with a personal reference which can be used for whatever they go onto next.
The students from both teams should be really proud of all that they have achieved on the Community Apprentice programme and for the difference that they have made in their communities. Good luck to both teams for the Boardroom Final!