Read Our

Latest News
COMMUNITY IFTAR CELEBRATION - APRIL 2022
Early April saw the joining of over one hundred people from our school and wider community for our annual Community Iftar, the sunset prayer followed by an evening meal during the holy month of Ramadan.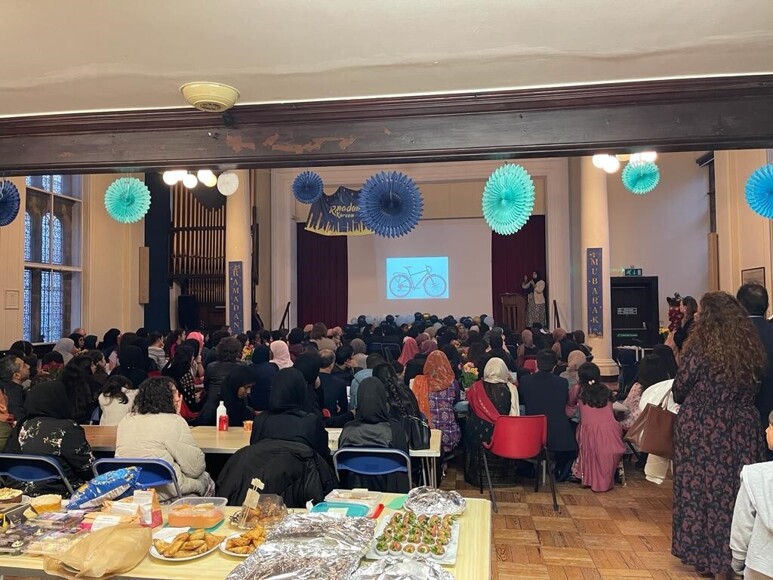 This event was organised by Head of Year 13 and Assistant Head of Sixth Form, Mrs Mohamed and the V6 Sixth Form Head Student Team, inviting people of no faith and all faiths to participate.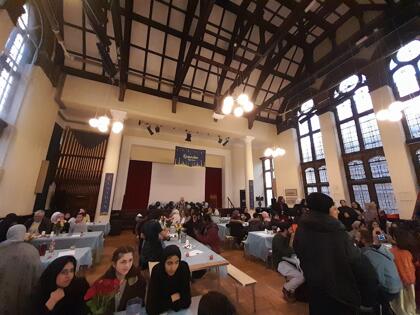 Attendees broke their fast at sunset, after the call to prayer. Then the feast began, with a wide selection of dishes and desserts for all, as the community shared their own food with friends and strangers.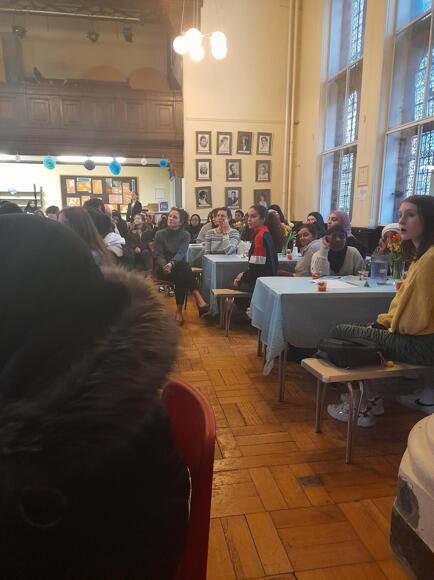 Ramadan, the month in the Islamic calendar when Muslims fast from dawn to sunset, is a period of spiritual reflection, personal development, charity and community.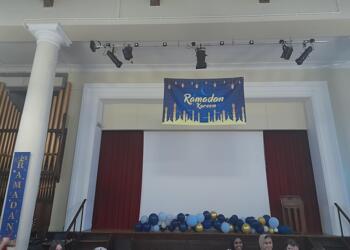 Mrs Mohamed said:
A HUGE THANK YOU TO ALL OF YOU WHO ATTENDED THE IFTAR EVENT, AND ESPECIALLY TO THOSE WHO HELPED. I AM VERY GRATEFUL TO ALL OF YOU. SIXTH FORM WERE AMAZING, PARTICULARLY THE YEAR 12'S WHO WERE SO HELPFUL THROUGHOUT THE NIGHT.

I CAN ONLY HOPE THAT ALL OUR STUDENTS LEAVE OUR SCHOOL WITH THE KIND HEARTS AND EMPATHY DISPLAYED BY OUR SIXTH FORMERS.

WITH AN UNEXPECTED PRESENCE OF OVER 100 PEOPLE, WE SUCCESSFULLY MANAGED TO FEED EVERYONE IN A LOVELY, LIVELY, FAMILY ATMOSPHERE.

THANK YOU AND WELL DONE TO THOSE OF YOU WHO FASTED BUT DIDN'T ACTUALLY HAVE TO! I WAS TOUCHED BY THE NUMBER OF V6 STUDENTS AND STAFF WHO JOINED IN THE FULL EXPERIENCE OF THEIR MUSLIM FRIENDS.
This was a wonderful celebration, with students, staff and families coming together for what can only be described as a long overdue event due to lockdown. There was a certain feeling of rejoice in the air as people can finally get back to doing Ramadan and Iftars properly as a community.